Jaw crusher - operating principle
The jaw crusher is distinguished primarily by its operating principle. Material is crushed by the pressure between two approaching jaws, one fixed and the other movable and adjustable. 
Here we are dealing with a four-stage movement system that ensures maximum efficiency. Between the two approaching jaws (stationary and movable), a pressure is created which acts on the material. Thanks to the optimal distribution of forces, an additional final crushing effect is achieved, which the raw material undergoes as it leaves the crushing chamber. The machining process is based on crushing, bending and shearing, which translates into high efficiency of the machine.
Design of jaw crusher
Along with high pressure goes the use of suitable construction materials. As the jaws and side walls are made of hard-wearing manganese steel, every machine in our catalogue boasts outstanding parameters.
You will find machines in different size variants (power, feed size, production capacity, finished product fraction) in the offer. With a maximum feed size from 125 mm to as much as 950 mm and capacities from 15 to 100 tonnes, we provide you with a great convenience of choice. This makes it possible for you to count on optimal support for your business, regardless of the type and scale of your operation!
An important feature of the jaw crusher is its high output. At the same time, they are reliable devices, which, in addition, require which, in addition, relatively little efforts in terms of operation and preventive maintenance. The relatively low energy consumption is particularly noteworthy. While, the equipment is also easy to operate, especially in relation to its capabilities. This fact is also reflected in the high availability and ease of replacement of spare parts.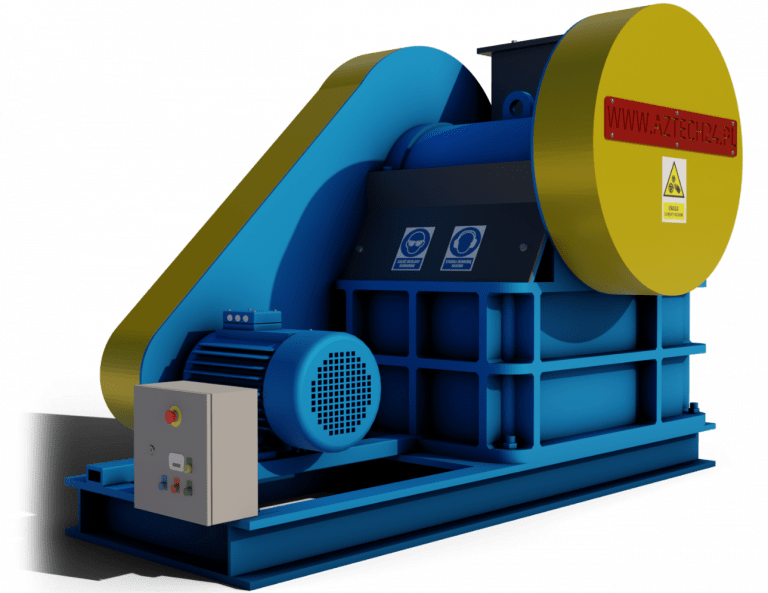 Intended use of machinery
Due to its features, the jaw crusher is readily used by the mining industry and aggregate mines, especially as a stone crushing machine. It is just as often used where recycling counts for entrepreneurs – in the demolition work or land reclamation. The most commonly processed materials include:
rubble

concrete

basalt 

sandstone 

hard coal 

stone 

brick 

limestone lime 

granite 

ceramics
Caution – maximum moisture content of crushed materials
ATTENTION! The jaw crusher is intended for crushing materials with a moisture content of up to 20%! Increasing the moisture content of the rock is reflected in a significant weakening of the rock, resulting in easier and more efficient processing. However, it should be borne in mind that moist material tends to clog the jaws, which can lead to a decrease in efficiency or, in the worst-case scenario, even permanent damage to the jaw crusher. We therefore strongly recommend that you do not exceed the specified parameters.
We encourage you to consult us by phone and email to match the most suitable model to your needs!
Photo gallery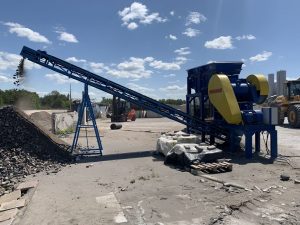 Available models of jaw crushers
Model
Infeed opening
Finished product
Capacity
Power
Weight