Cone crusher - operating principle
Thanks to its design, the cone crusher has many advantages: high reduction ratio, low wear and tear, stable operation of the device, failure-free operation and, above all, accuracy in crushing into individual fractions of the finished product.
In our offer you will find crushers with mechanical or hydraulic adjustment of the cone distance from the jackets, and optionally also with hydraulic cone lifting in the emergency situations. 
All cones are cast in resin, which significantly extends the life of the subassembly, and are made of high-grade, hardened steel. The advanced technology of crushing raw material works by means of the pressure between the solid casing and the moving cone The crusher makes it impossible to crush raw materials with an increased moisture content! The machines are intended for crushing hard materials.
Intended use of machinery
Due to its characteristics and operating principle, the cone crusher is ideally suited for the production of aggregates, grit, as well as road and railway infrastructure works (preparation of materials for road construction or embankments). In addition to this, it is also often used in quarrying, especially for materials such as:
quartz
granite
basalt
gravel
dolomite

 

stone
Available models of cone crushers
In our offer you can find a cone crusher in two versions:
KST/M – manual adjustment of cone from jacket 

KST/H – manual adjustment of jacket from cone 
Photo gallery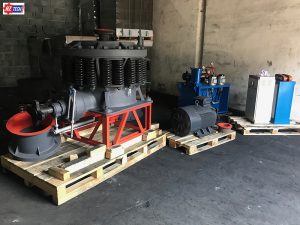 Available models of cone crushers
Model
Max. feed
Finished product
Capacity
Power
Cylinder diameter