Customised belt conveyors
The belt conveyors available from Aztech are distinguished by their simple yet robust design. They are equipped with efficient configuration systems that make their operation quick and easy. In our offer we have belt conveyors with lengths from 2,000 mm to 15,000 mm. Each of them is equipped with an electric drive and a worm gear to optimise belt speed. We produce belt conveyors with herringbone, flat and flighted type belts. Depending on the width of the belt conveyor (in the range from 400 to 1,000 mm), we use 2 or 4 support rollers. Thanks to this solution, the customer gains a guarantee of smooth operation of the device, even in cases of excessive load caused by the weight of the transported material.
Specialist industrial machines - belt conveyors
The belt conveyors can vary in design, but most are driven by electric motors. The most popular are belt conveyors made up of a belt in the form of a loop, which is supported by rollers set in motion by drive drums.
The modern solutions of belt conveyors replace individual component devices with long conveyors.
The belt conveyors are used primarily in the mining industry, the energy industry, metallurgy, processing plants, farmsteads or trans-shipment ports. The belt conveyors are used to transport materials such as: 
aggregates,

glass,

plastics,

scrap metal,

rubber,

concrete.

rubble,

brick.
Photo gallery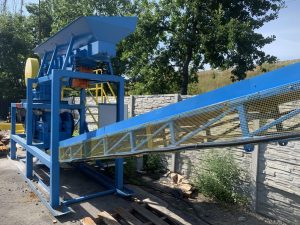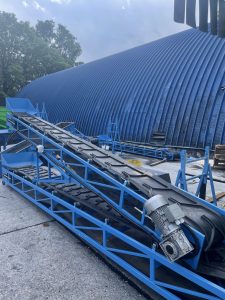 TABLE OF AVAILABLE MODELS
Model
Length
Belt width
Power